The Five Finger Lighthouse is run by the dedicated members of the Juneau Lighthouse Association and the myriads of volunteers who donate their time and skills toward the preservation of this historic structure.
Jennifer Klein
Treasurer, Co-secretary, Founding Director
Jennifer grew up in the Bay Area of California, born with a love of the sea. When she was 10 years old, she recalls reading a Sunset Magazine or National Geographic article about Southeast Alaska. She remembers thinking "I want to live there". So she did from 1975 to 2014 (with a 9 year hiatus to Cape Cod). She received a BA in History and along with her Construction Project Management work experience with the State of Alaska became involved with historical preservation. Five Finger Lighthouse became her canvas and she honed her writing skills to obtain numerous capital grants to help preserve, maintain and make Five Finger accessible to the public. None of this could have been possible without the strong skills and innovative ideas of she and her husband Ed. Ed and Jennifer live in California now, for his health, but return to Southeast as often as they can to continue their 20 years of work at the lighthouse.
Ed McIntosh
Founding Board Member
Ed is one of the original founders of the Juneau Lighthouse Association.  He and Jennifer took possession of the structure from the Coast Guard in 1997.  Ed installed wind and solar systems on the island, remodeled the kitchen and bath, re-roofed the outbuilding, and so much more.  Ed considers the Five Finger Lighthouse home after spending over 17 summers on the island. Read more about Ed and Jennifer and their time at the lighthouse here.
Paul Sharpe
President
Board member since 2016
A four-time national Emmy Award winning cameraman and editor, Paul has traveled the world working on wildlife and adventure documentaries. His first visit to Five Finger Lighthouse came in the late 1980s when Paul was filming a humpback whale documentary for Mutual of Omaha featuring Jim Fowler. Since then, Paul has visited the lighthouse on several occasions and was the full time Lighthouse keeper in 2015. Paul is currently serving as president of the board of directors.
Janet McIntosh
Vice President – Co-Secretary
Board member since 2016
Janet has worked in the medical manufacturing field for almost 30 years. She also previously owned her own packing and shipping business in Portland OR. Janet was brought to the Five Finger Lighthouse by her brother Ed. Hearing Ed's stories about the lighthouse inspired her start volunteering each year. In the process of painting, scraping, and organizing the boathouse (several times) she developed a deep love for the lighthouse and has since spent many "working vacations" helping  the structure transform. While on the island Janet enjoys standing on the helipad  watching whales, seals, blue heron, killer whales, and eagles.
Michelle Fournet
Board Member since 2016
Michelle Fournet is a wildlife ecologist specializing in marine bioacoustics. She first came to the lighthouse in 2011 as a researcher interested in classifying humpback whale vocalizations in Frederick Sound. She spent two summers running a field team from the island where she shared this magnificent structure with passing visitors and a handful of very lucky undergraduate students. For Michelle being at the lighthouse inspires a sense of belonging to both the natural world and the rich maritime history of Southeast Alaska. While on the island she enjoys watching the storms roll in from the Lighthouse tower and listening to the sound of exhaling whales.
 Keith McPencow
 Board Member since 2016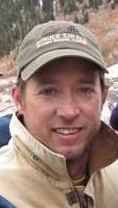 At age 8, Keith read Gentle Ben by Walt Morey, a story of a boy and his relationship with a Grizzly Bear, and knew that one day he would live in Alaska. He was born in the City of Chicago, but spent lots of time with his extended family recreating on lakes in Wisconsin, rivers in Michigan, and along the shore of Lake Michigan.  After attending college in Ohio, and living a rural life, he first visited Alaska in 1998, hiking in Denali National Park, and fishing and traveling around the Kenai Peninsula. The next year he started to work seasonally in the Denali area, holding such jobs as Bus Dispatcher, Tour Driver, Carpenter, and many roles with one of the leading non-profits in the area, the Denali Foundation/Denali Education Center. In 2012, after visiting the Juneau area for the third time, he decided to make the state capital home.  Living on a 37 ft sailboat, Keith enjoys spending lots of fun days outside in the rain forest climate, boating, hiking, gardening, taking walks with his dog The Dude, fixing up houses, and working on his private pilots license.
Fred Sharpe
Board Member
The beauty and remoteness of SE Alaska allures those with a love for wilderness. Dr. Sharpe made his first visit to Alaska in 1987, where he encountered his first humpback near Five Finger Lighthouse. Thus began a lifelong passion for humpback whales which culminated in the completion of a doctoral thesis on bubble net feeding, at Simon Fraser University in 2001. Discussions with the Juneau Lighthouse society revealed a mutual interest in ecological research on the island, and photo ID studies began there in 2008. Fred is a naturalist in the classic tradition, and has been compiling bird and botanical observations for the Five Finger Islands.